Summary 10 Chrome plug-ins for Python
October 9, 2018
Offered by: www.yaks.co.nz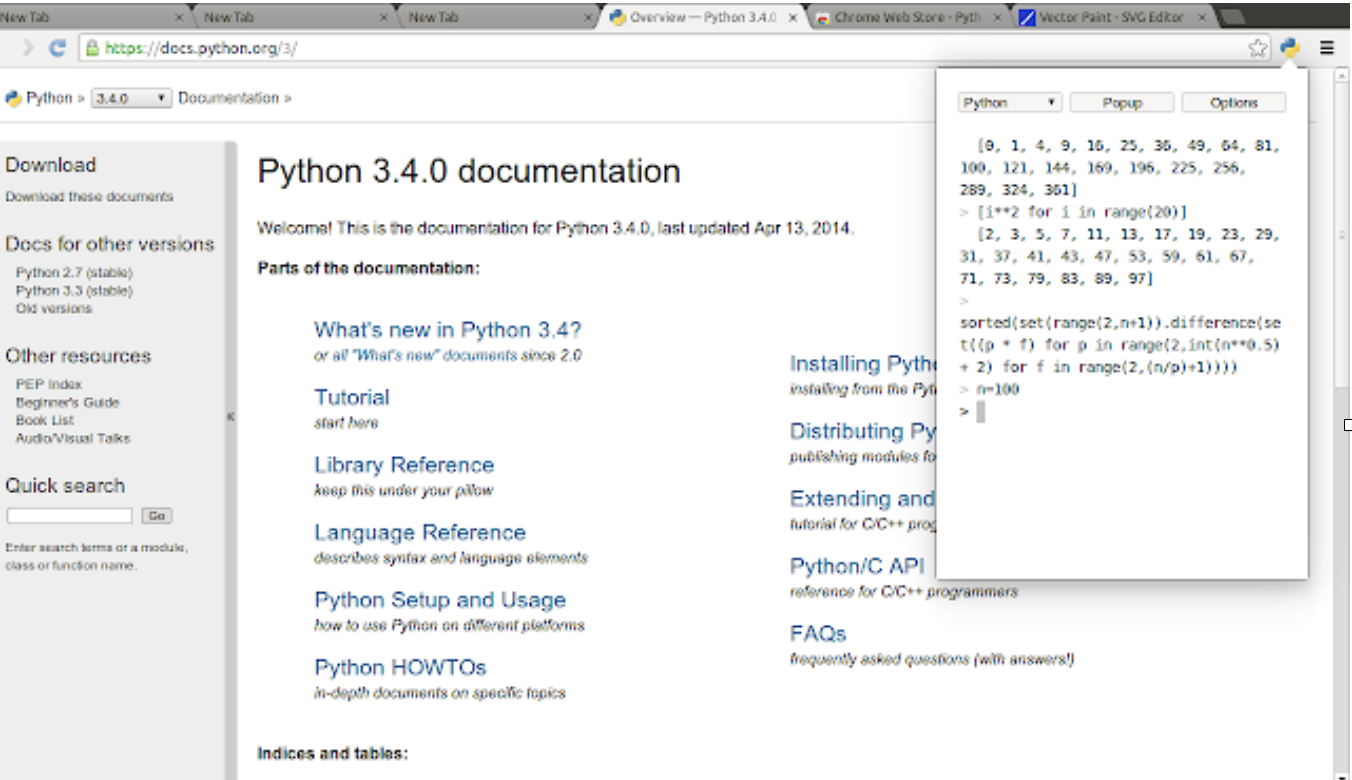 Overview Python shell for your browser.
A Python shell for Chrome.
Features 1)Python 3.3 2) JavaScript (ES6 extensions)
Python aims to combine "remarkable power with very clear syntax". http://www.python.org/ You can use Python Shell to test Python code, to test regular expressions or as a calculator.
Offered by: python.codnex.net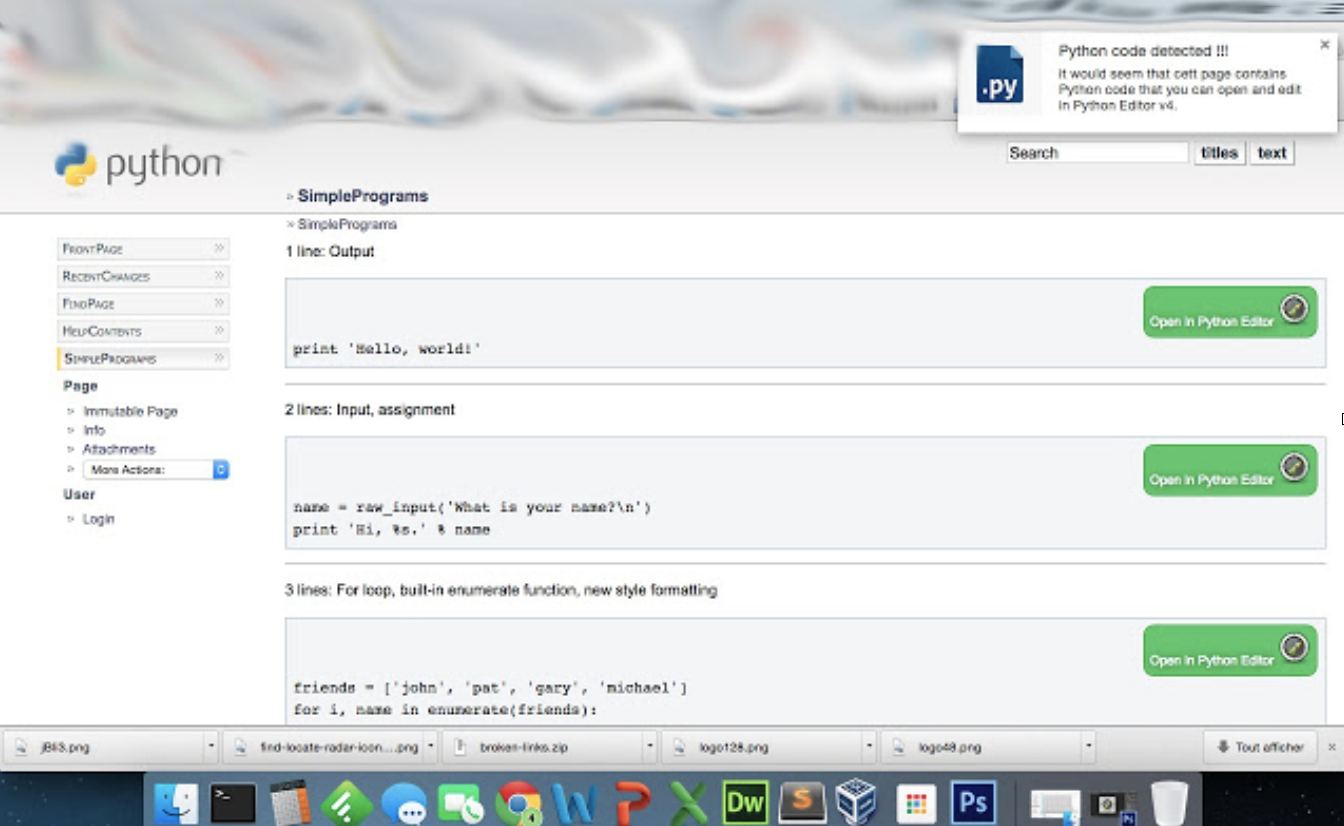 Overview Automatically detect and extract python code from a webpage and open it directly in Python Editor v4 Just have to open a webpage containing python code and this extension will display a notification to inform you if there is code on the page and each code area will have a new button to open it in python editor.
Offered by: Bnk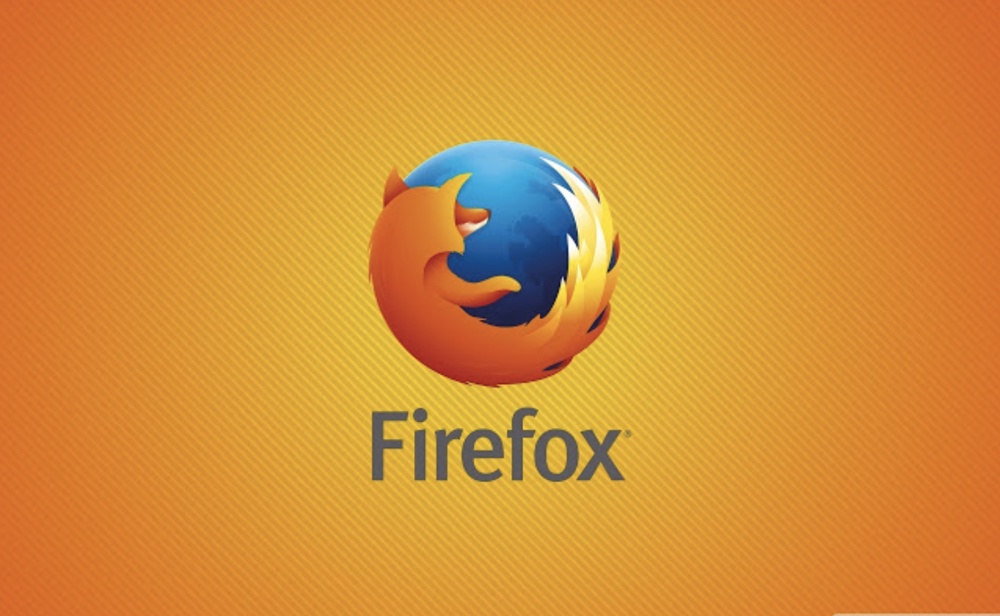 Open current tabs, links, pages (or all of them) in firefox
Open a tab or all tabs in firefox
Open selection/link/pic/video/audio etc.
Windows
1). Just install the host program (no need to install python). 2). After installation make sure your the firefox path on the options menu is correct (x64 or x86)!!!
Osx and Linux
1). Install Python 2.7 - https://www.python.org/ftp/python/2.7.12/python-2.7.12.msi 2). Download and run the install host script(Go to the add on page).
No need for python on windows (osx and linux do need, install 2.7).
Offered by: Haley Cope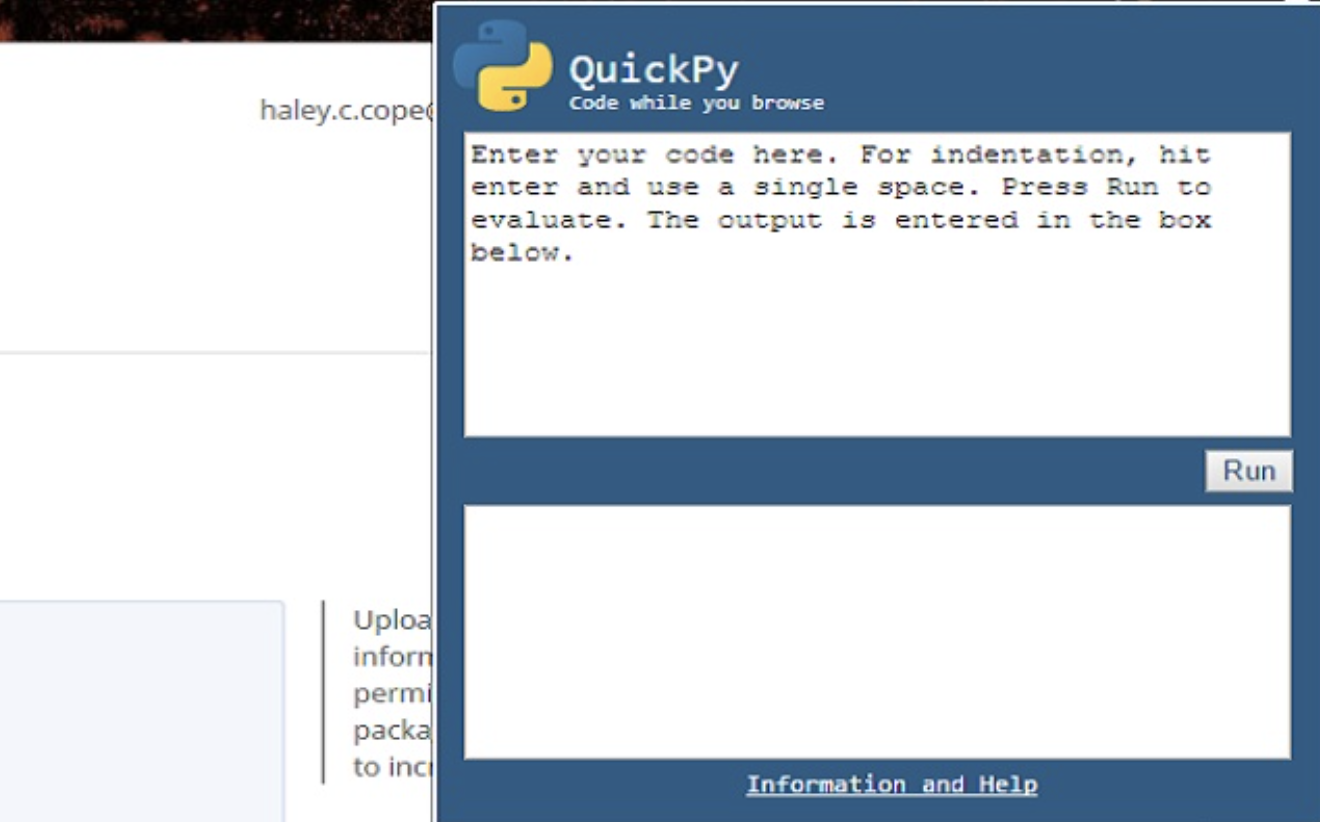 A way to write and evaluate small Python scripts
Offered by: NewBauhaus41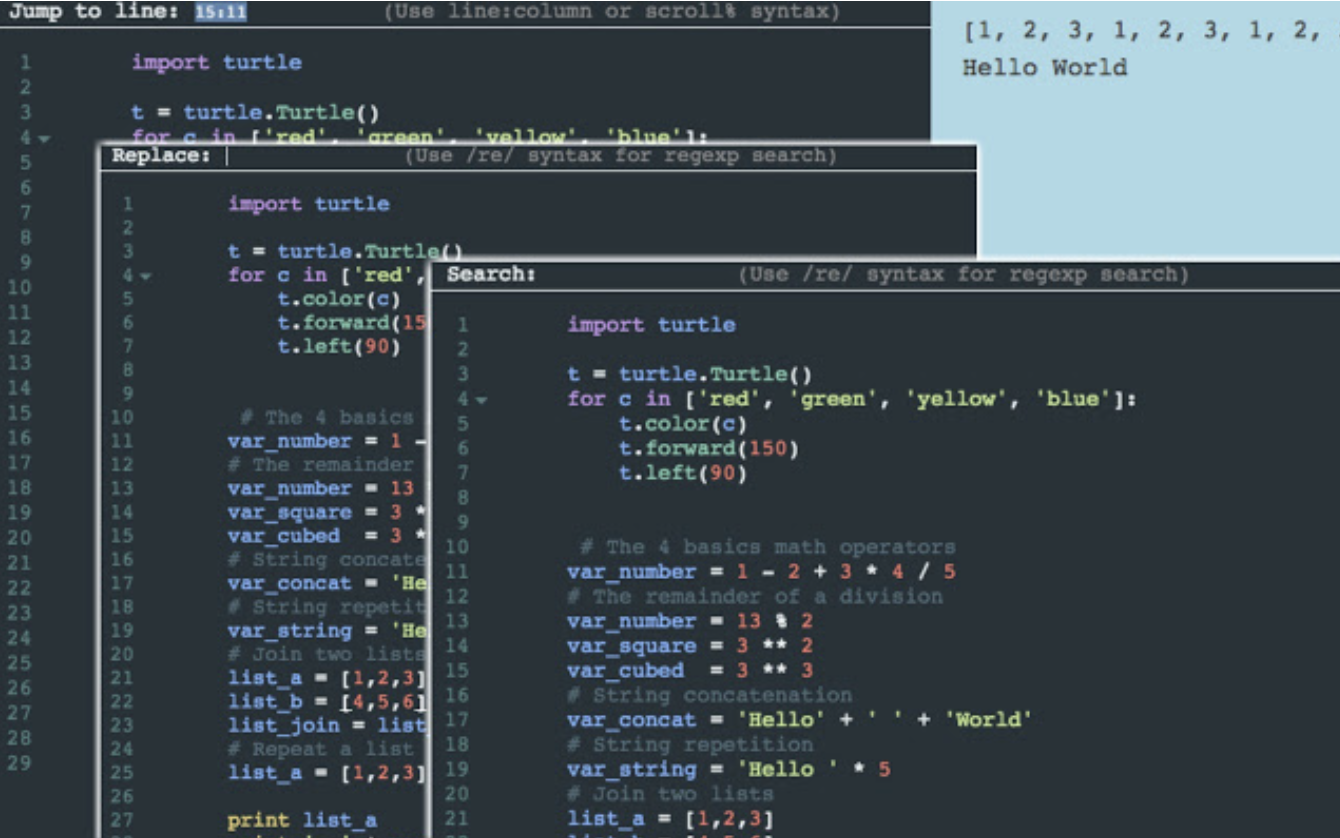 Offline Python Editor based on Skulpt, entirely client side with display result & code validation Edit & run directly in this Chrome application your python project with this useful editor and code validator Main Features:
Python syntax highlighting
Edit, run and validate Python code
Save code in your storage as Python application
Print result with useful preview
Drag & Drop to open python and txt file. You can use button toolbar too
Undo & Redo buttons
Ctrl-Space to autocomplete the code
Search/Replace string and jump to line (Using advanced functions with keyboard shortcuts)
Save Python code as pdf format
Keyboard shortcuts to save project as Python application (CTRL-SHIFT-S for Windows - CMD-SHIFT-S for Mac)
Keyboard shortcuts to save code as txt format (CTRL-S for Windows - CMD-S for Mac)
Numpy, matplotlib libraries partially supported
Details about keyboard shortcuts:
Ctrl-F / Cmd-F (Mac): Search
Ctrl-G / Cmd-G (Mac): Search next
Shift-Ctrl-G / Shift-Cmd-G (Mac): Search previous
Shift-Ctrl-F / Cmd-Option-F (Mac): Search and Replace
Shift-Ctrl-R / Shift-Cmd-Option-F (Mac): Replace All
ALT-G: Jump to line
Ctrl-Z and Ctrl-Y / Cmd-Z and Cmd-Y (Mac): Undo & Redo
Offered by: lemiant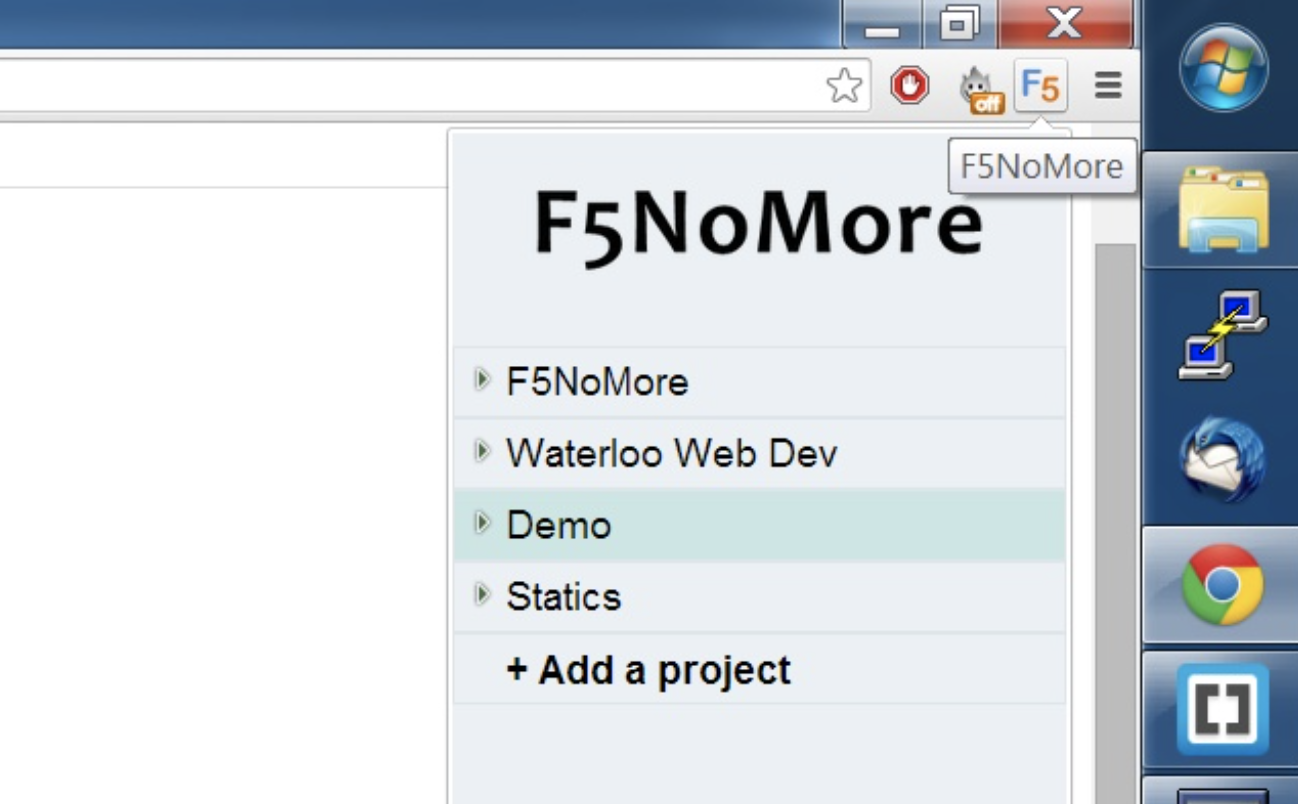 Automatically refresh a project when source files change F5NoMore is a project for Web Developers to help them develop a more seamless workflow by monitoring a local project for changes and immediately reflecting updates in the browser (by automatically reloading the page).
HOW IT WORKS F5NoMore is composed of two parts:
Python Package
Chrome Extension
The python script watches the filesystem for changes and when it sees changes it communicates with the extension which reloads the page.
INSTALL
You need to install both the F5NoMore Python package and the F5NoMore Google Chrome Extension. You can install the chrome extension from this page.
Installing the python package There are three steps to install the python package:
Usage Once everything is installed you should start the python script with:
python -m f5nomore
Next you should set up the files you want to watch using the Chrome extension:
Double click on the F5 icon to open the file select dialogue.
Add a new project
Open the new project by clicking the arrow to the left of it
Select the file/folders you want to watch
Close the dialog
Offered by: Mateusz "m4tx" Maćkowski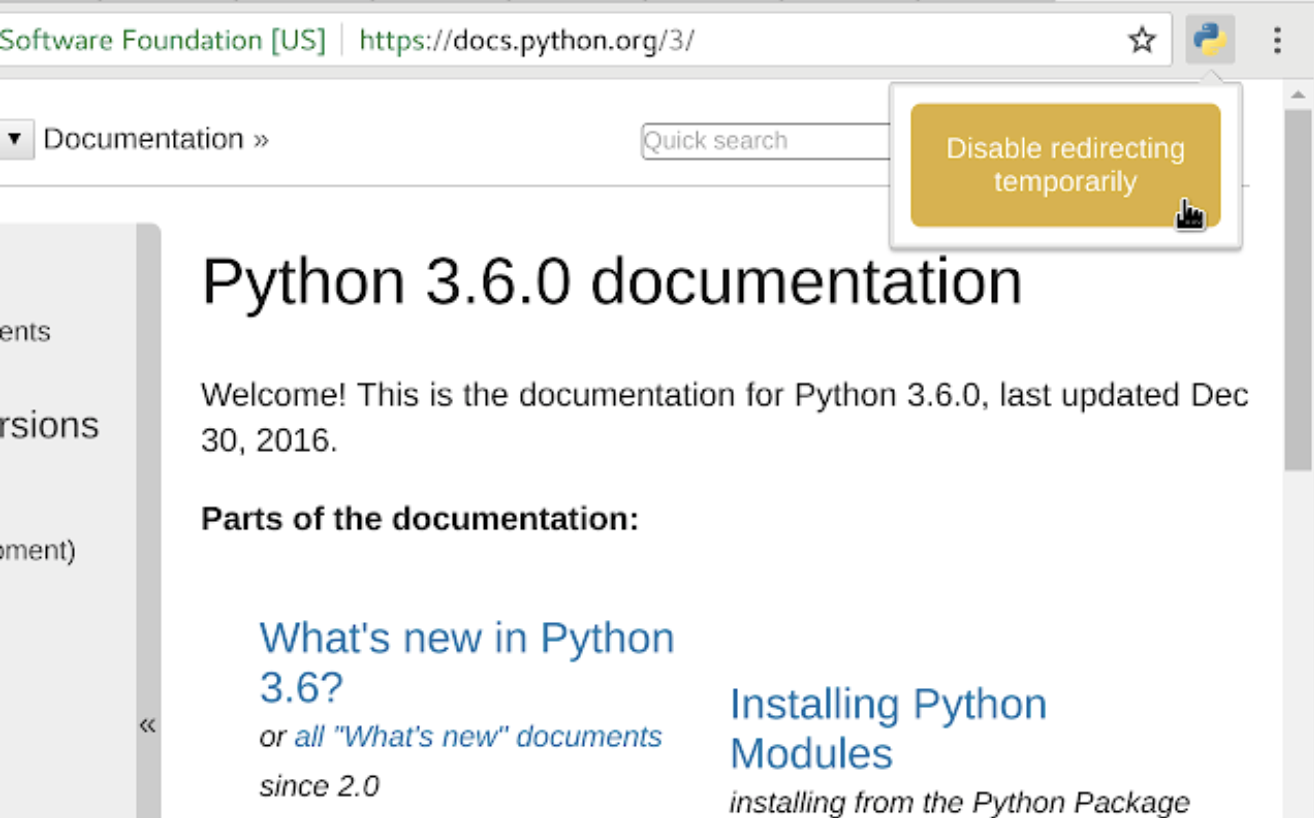 Automatically redirects to Python 3 documentation when Python 2 docs page is requested Google search results very often have links to Python 2 docs page. However, if you are programming in Python 3, switching to version 3 docs constantly may be pretty annoying. This extension does this for you.
Offered by: fwuensche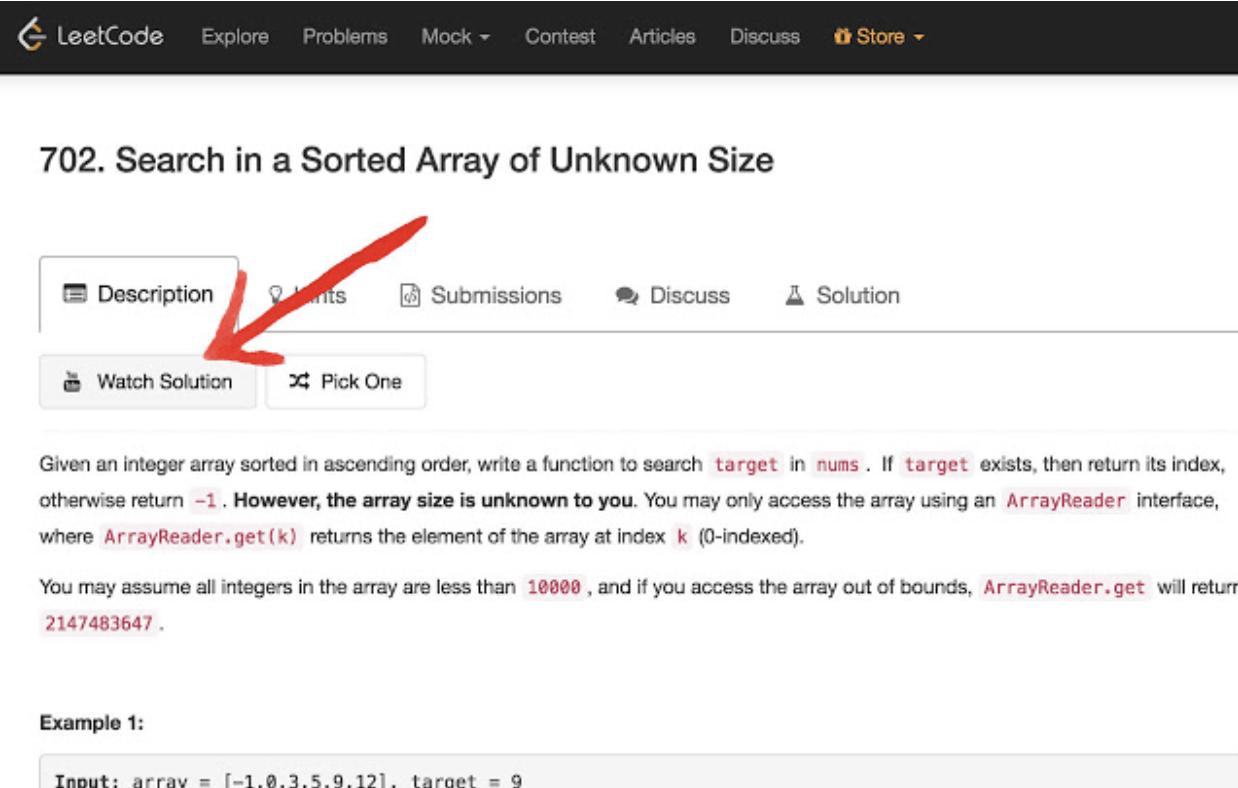 Makes your Python development more efficient on LeetCode. This extension provides the user with productivity tools, such as a button for YouTube solutions, automatically filtering Python discussions, sorting them by top rated, and more.
Offered by: github.linkify.cmssw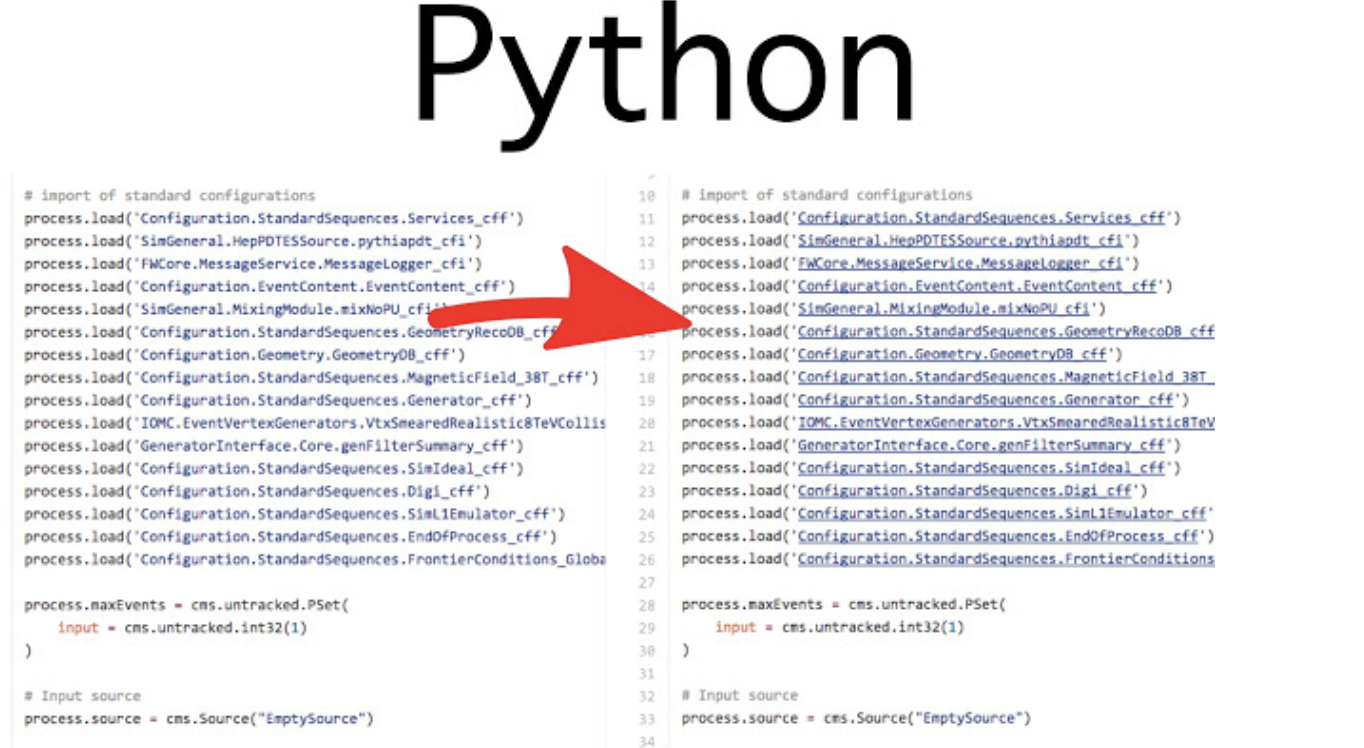 Turn C++ and Python includes in CMSSW into links on Github Makes C++ and Python files in CMSSW on Github much easier to navigate by turning filepaths into links! No more copy-and-pasting! Also works on forks.
C++: convert "#include" statements into links. Also adds a link to the source file if it exists.
Python: convert "import X" and "process.load('X')" statements into links.
NOTE: there is a current known issue, whereby you must sometimes reload the page to get links to appear.
Offered by: https://ianchenhq.com
Nice chrome extension to export network to Python Automatically retrieve HTTP requests and generate Python syntax!
Develop reptile artifacts
It is recommended to open Silent Debugging and there will be no yellow bars.
http://www.gamefromscratch.com/post/2014/07/13/Permanently-turning-off-the-Chrome-debugging-message.aspx
Exports HTTP requests and output to Python format for easy development
---
This post is curated by IssueHunt that an issue based bounty for open-source projects.